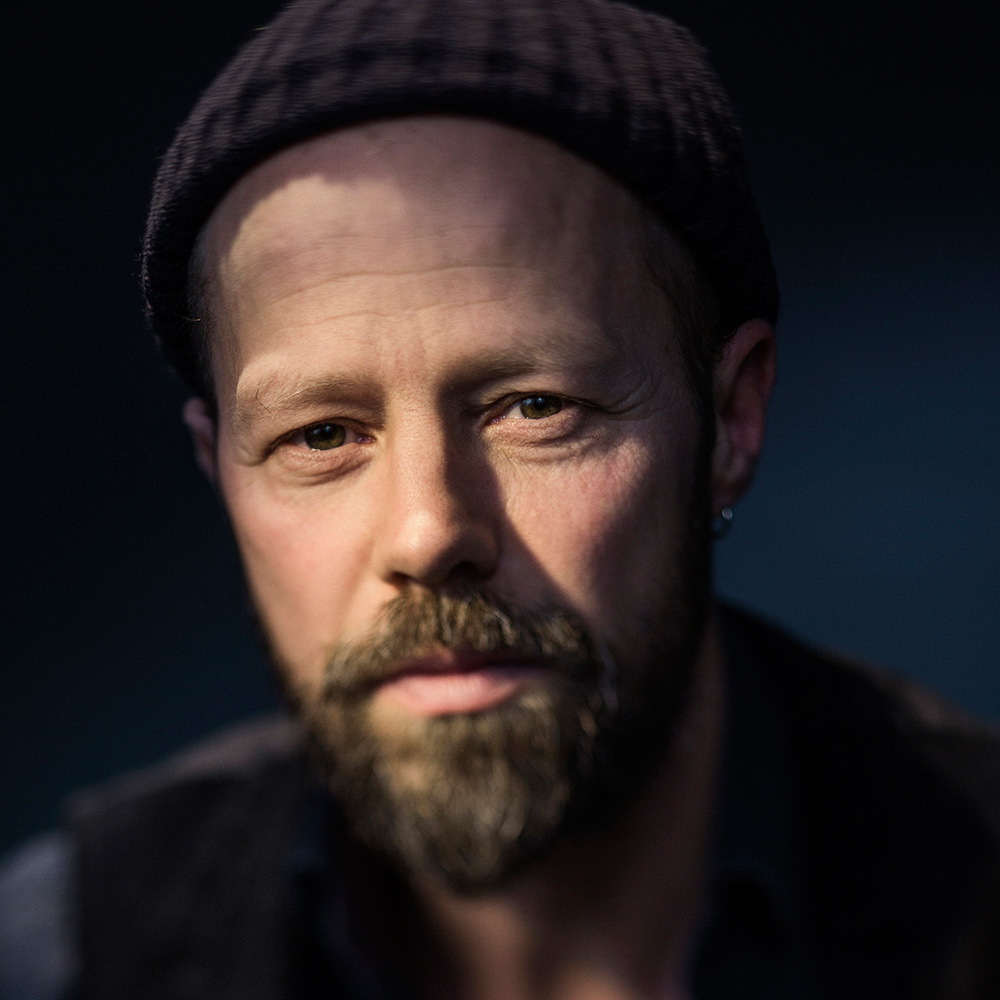 Photo: Valtteri Kantanen
About
Salvesen has worked as a set designer and costume and light designer over three decades. He has invited us to spaces that he has created on stages in Finland and abroad. His style has been called minimalistic, associative and imaginative. His trademarks include an attention to detail and an unerring sense of style.
He is also the co-founder of "Ozonteatern", a small theatre group in Finland, and he was its artistic director 2001-2013.
Erik Salvesen also works as an artist, with numerous exhibitions behind him. For him painting is not about depicting the physical scenery; it is about catching the essence of the space through the memory of our imagination. It is poetry in colour.
Erik Salvesen was born 1963 in Helsinki, Finland. He grew up in Belgium, Nigeria, Germany and Spain.
Links
Åsa Salvesen
Svenskateatern
Wasa teater
Ozonteatern
Alexander Salvesen
Valtteri Kantanen
Nanne Nylund
Some video clips available on Youtube
"Förvandlingen", "The Metamorphoses" by Franz Kafka
https://youtu.be/4FZXNN7zld8
https://youtu.be/0qKRdIkjdOU
https://youtu.be/fJjNdZ0WZNE
"Ett drömspel", "A Dreamplay" by August Strindberg
https://youtu.be/3WgBkOpv2XY
"Mor kurage och hennes barn", "Mother Courage and her children" by Bertold Brecht
https://youtu.be/x6qjIUP6tpY
"Chess" by Benny Andersson, Björn Ulveus, Tim Rice
https://youtu.be/8GJNO2W0_qM
"Landet" by Christoffer Mellgren
https://youtu.be/Ocp0cxnBYKk
"Körsbärsträdgården", "The Cherry Orchard" by Anton Tjechov
https://youtu.be/2E4fvjQP6Os
"Djungelboken", "The Jungle Book" by Rudyard Kipling
https://youtu.be/PYeNoKgJCKk
"Tove" by Lucas Svensson
https://youtu.be/IhLs0FUK5Qw
"Skattkammarön", "Treasure Island" by Robert Louis Stevenson
https://youtu.be/eUx0d89OxAg
"Några av oss" by Joakim Groth
https://youtu.be/sT5Tpu-w7ck
"Midsommarnatts dröm", "A Midsummer Nights´ Dream" by William Shakespeare
https://youtu.be/YJ4j4UczCk4
"Mannerheim" by Per-Erik Lönnfors & Johan Storgård
https://youtu.be/tV0UKLyabYE
"I sista minuten" by Carin Mannheimer
https://youtu.be/uu8kP-r-8fc
>
"En familj", "August: Osage County" by Tracy Letts
https://youtu.be/juGZrkSbuDU
>
"Stockmann, Stockmann" by Barbro Smeds
https://youtu.be/ab_3z23UHQ8
>
"Vi är bara människor" by Joakim Groth
https://youtu.be/5s9HqYYtL9w
"I det stora landskapet"
https://youtu.be/hL0MdtaUHAs
"The Play That Goes Wrong" by Lewis-Sayer-Shields
https://youtu.be/iG_Ys32rQDI
"Aladdin och den magiska lampan" by Anna Simberg
https://youtu.be/Li46qjTGcY4
Video clips Erik Salvesen
https://youtu.be/4E65Vf5JRqU
https://fb.watch/9isn56sx2o/
https://arenan.yle.fi/1-2732109
https://arenan.yle.fi/1-2731876